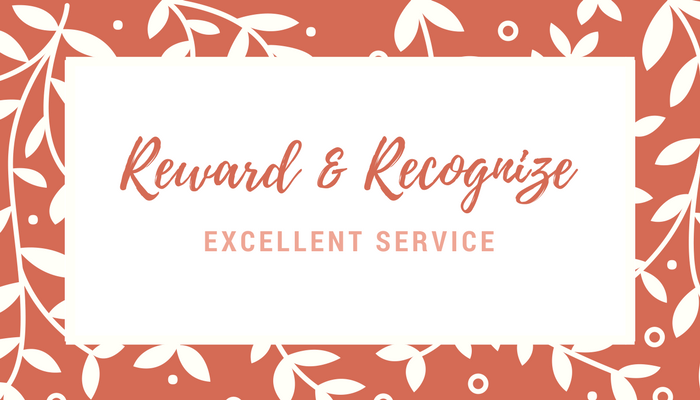 Reward and Recognize Excellent Service
The desire to feel special is natural to human beings. People want to know that they matter to others and we all want to feel important and appreciated more than any other thing. A well-planned employee recognition program will do wonders to your service rep's morale, dedication, and productivity.
Employee recognition programs like; using the picture of the staff as cover for a company newsletter or giving award plaques, certificates, personalized jewelry etc. even congratulatory emails from top management. Anything that connotes status will make excellent recognition rewards. Recognition programs will motivate your employees to take more chances to be outstanding.
Combining recognition and money is the formula for a very powerful reward. Nearly everyone responds well to praises of appreciation, but the response becomes even more positive when the praises have monetary value. It is best to award some money or something of value alongside recognitions.
If you continue to reward excellent performance in service delivery with recognitions alone, then soon it loses its efficacy and becomes just recognition. You will start to hear them say things like – "Recognition doesn't pay the bills"
Rewards Don't Necessarily Have To Be Money
Offering money isn't the only way to recognize outstanding or excellent service feats by your employees, there are other ways to recognize and reward them besides cash –
#1. Promotions
Promotion as a reward for outstanding performance will drive your reps to exceed themselves. In addition to the monetary increment that comes with promotions, it comes with added responsibilities that will give your employee the opportunity to develop their skills and abilities as individuals in their career. The chance to attain a new cadre, learn new skills, and educational opportunities all make effective rewards.
#2. Give time off
Giving employees a day or half day to do whatever duties they want to perform at work or the option of taking a paid day or more off, all work well as rewards for doing something extra special for the customer or consistently going beyond the regular call of duty. Members of the team can have nominations to decide and the winner gets the morning, afternoon or next day off work paid for, the result of this is employees who are engaged and happy with their jobs.
#3. Prizes
Prizes are effective performance incentives and work well as recognition rewards. Vacation tickets, movie tickets, company products, free lunch or dinners are examples of using prize to recognize and reward outstanding employee performance
#4. Fun
Building fun into the workplace goes a long way in boosting morale, bonding teams, and increasing employee involvement. Parties or planned retreats to celebrate an achievement or milestone, photo montages, birthday celebrations etc. are good examples of using 'Fun' as an incentive for excellent performance. However, the effectiveness of this sort of reward depends on the nature of the workplace. If your workplace is too busy for people to occasionally have some fun and laugh, then this might not be appropriate.
Further reading: 30 Awesome Ways To Reward Employees & Boost Productivity
---
I have a lot of thoughts on how organizations can effectively reward and recognize excellent service, but I'd like to hear what's on your mind. Share with me the forms of recognition and awards that are effective in your workplace
Latest posts by Kelechi Okeke (see all)