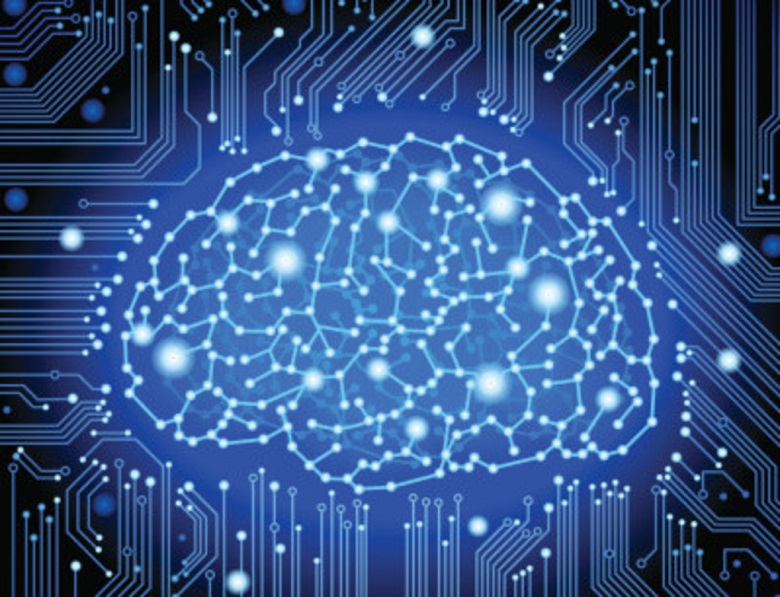 Artificial Intelligence (AI) is no longer sci-fi, it is here today and it has reached maturity. This is due to huge advances in the development of machine learning, Natural Language Processing, and cognitive computing. Already, in the Video game industry, there has been significant progress in AI development, now there are AI opponents that learn to manipulate and use the gaming environment to enhance their survival.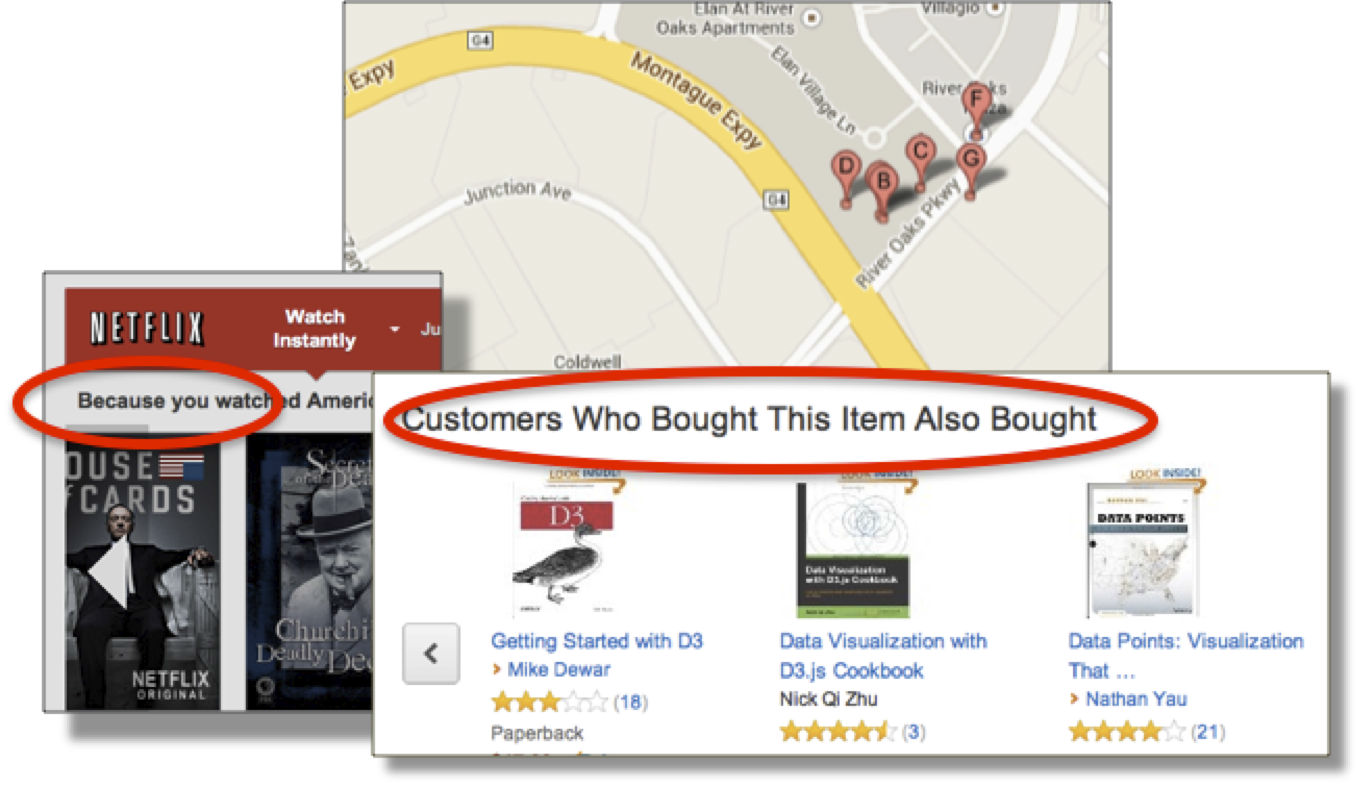 Organizations in the Music, Tv, and E-Retail industries are investing in and adopting AI to enhance customer experience and differentiate themselves. Brands like Amazon & Netflix have powerful recommendation engines that analyze customer search and purchase history, and then use the data to make recommendations the user is most likely to value. Music streaming site Deezer also has an algorithm that looks at your listening history and based on the data, it plays songs you are likely to enjoy. These capabilities enhance the experience consumers have whenever they use their products or services and also sets the brands from all other brands in their various markets.
Forward-thinking banks have begun investing in the customer experience as a way to differentiate their offerings and ensure customer loyalty, but It has become increasingly apparent that Artificial Intelligence may be a part of the solution.  In an effort to improve the customer experience and set themselves apart, most banks are redesigning their branches, building customer-centric cultures, adopting omnichannel support, personalizing communication, and building robust Ebanking platforms.  All these are important, but the customers are yet to feel the impact AI is having in their relationships with traditional banks.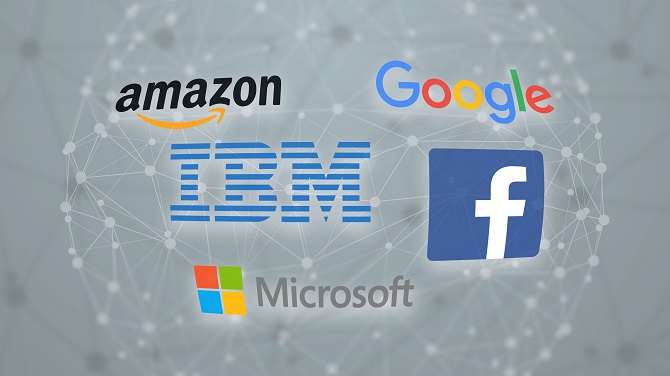 Banks must understand that customers interact daily with non-banking entities who have adopted and are perfecting the use of Artificial Intelligence, brands like IBM, Facebook, Apple, Microsoft, Amazon, and Google. These customers (especially Millennials and Gen Next) already have expectations of these experiences, as they encounter and interact with AI-driven technology with more frequency.
73% of Millennials stated they would rather handle their financial services needs with Google, Amazon, Apple, PayPal or Square than with their own nationwide bank.

 – Viacom 2014 Millennial Disruption Index report
How Can The Banking Industry Adopt AI Technology?
Several large financial institutions have made the bold move of investing in Artificial Intelligence to enhance their product offerings and improve the customer experience. For example, Deutsche Bank and UBS use an AI engine called Sqreem (Sequential Quantum Reduction and Extraction Model) to identify and map customer behavior by analyzing customer generated data and then using the data to match customers with products & services that would most likely be of value to them.
Clever applications of Artificial Intelligence in banking can improve the customer experience in a lot of ways. Here are 3 areas of banking AI can improve –
1. Personalization
Recommendation engines are very powerful personalization tools because they connect customers to those products & services that will be of value to them, which they are unlikely to discover by themselves. By applying data science & machine learning, Banks can create powerful recommendation engines that can offer relevant product offerings to the right customers, at the right place, at the right time.
Banks can mine data sources such as call center, social media prints, websites, emails, customer feedback and even geo-location to make recommendations that enhance the Customer's Experience. For instance, consider this scenario –
Customer (Frank) goes to a particular restaurant every Friday night and usually makes payment with his debit card. With a Recommendation System, the bank could prompt Frank via the mobile app to notify him of 2 other restaurants in the same proximity which could offer him discounts for his purchases with their card, since these restaurants are in partnership with the bank. 
Another example of personalization would be in the area of Transactional reminders, like making recurring payments such as utility bills. Over time the engine would adapt to the customer's preferences, and depending on risk appetite, the customer can give the system control over such tasks.
2. Advisory Services
Robo-advisors (automated advisors that use algorithm-based software to provide portfolio and investing advice) are not new, they emerged around 2008 and today there are over 100 robo-advisory services.
Seven out of 10 Consumers Globally Welcome Robo-Advice for Banking, Insurance and Retirement Services

  – Accenture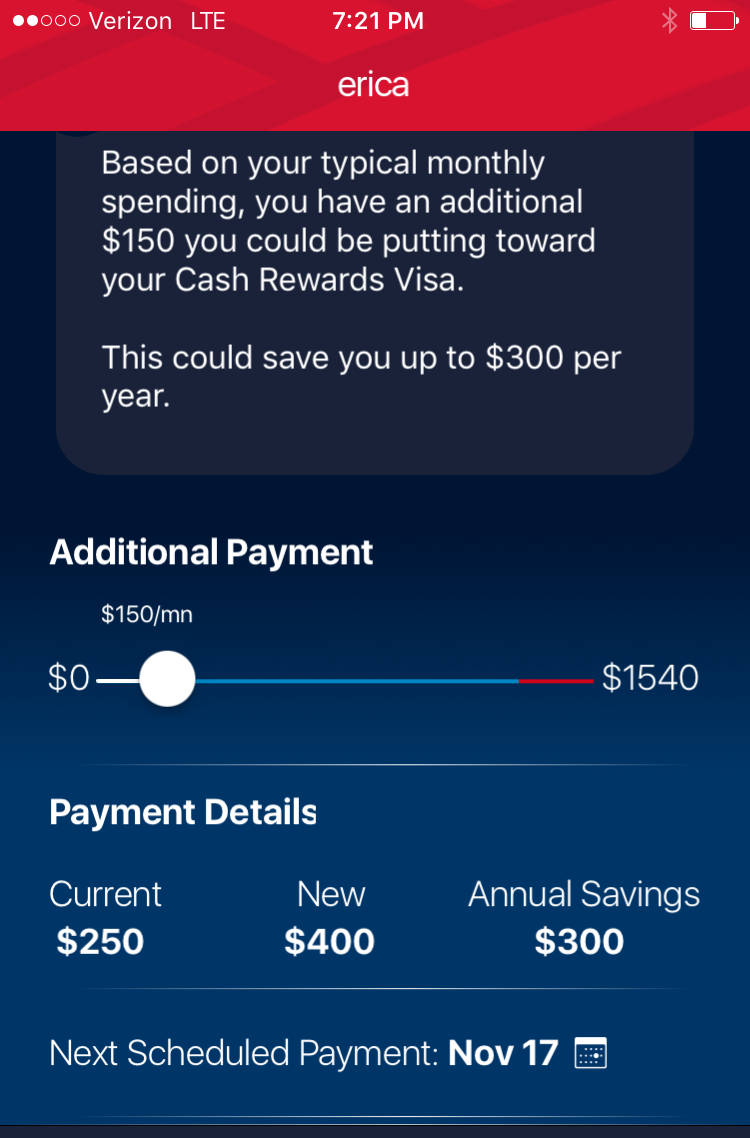 In the Global Distribution & Marketing Consumer research by Accenture, Consumers revealed that the main attractions for using robo-advice platforms are – the prospect of faster (39%) and less expensive (31%) services, and because they think computers/artificial intelligence are more impartial and analytical than humans (26%).
Bank of America's digital assistant "Erica" available inside the bank's mobile app, can interact with customers via voice or text message. According to the head of digital banking, Michelle Moore – "With Erica, the company hopes to help consumers create better money habits." Erica might send someone a predictive text:
"Frank, I found a great opportunity for you to save you $200".
When the customer clicks the popup to launch the app and get Erica's advice, It says –
"Based on your typical monthly spending, you usually have an additional $150 at the end of every month. From my estimates, if you put the money in a high-interest account, in the next 8 months it will yield up to $300 in profit.
Would you like me to assist in creating a high-interest deposit account? 
Almost all the major investment companies like Schwab, Vanguard, Fidelity and Wells Fargo now offer their own robo-advising services, typically coupled with the option for human advice. The goal is to provide a superior customer experience where the robo-advisor is at the digital front-end but works collaboratively with humans at the back end available to provide guidance & supervision.
3. Improved Support & Security Services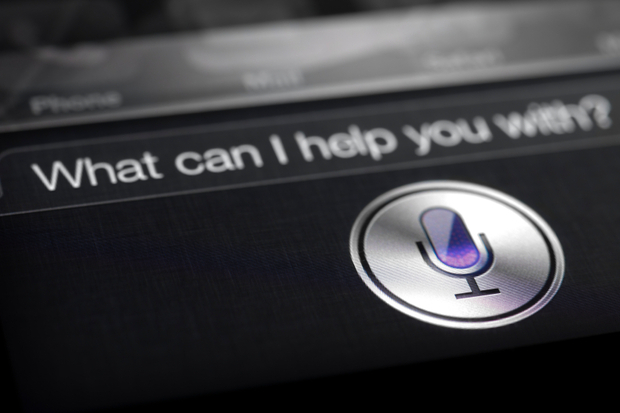 Chatbots are already changing the way brands engage with customers. The combination of 24/7 availability and near real-time response makes Chatbots a powerful support tool. They use Natural Language Processing (NLP) engines to turn human language into commands a program can understand, giving them the ability to mimic human conversation.
Though Chatbots are not advanced enough to understand sarcasm, colloquial nuances or context, there is usually a human agent at the backend to supervise the bot and assist in tough cases. The benefits they provide have put them in use in a lot of organizations for basic support purposes. This saves the customer time or resources to call the contact center or send an email, while also improving the experience. (Here's an interesting Chatbot you can interact with: Dave)
Fraud detection is another area that has advanced significantly due to improvements in artificial intelligence. Companies like MasterCard and WorldPay have been using AI to detect fraudulent transaction patterns for several years now. The technology is expected to advance even more in coming years and would go a long way in securing consumer funds.  Bank's can use these patterns to detect fraudulent transactions on customer accounts, react proactively and inform the customer.
---
The use of Artificial Intelligence in Banking is set to explode. The Technology Vision 2017 report by Accenture has suggested AI will be the main way that banks interact with their customers within the next 3 years. Large financial institutions who have invested in AI are already reaping the business benefits of technologies like natural language processing, image recognition, and machine learning.
Artificial Intelligence in banking would be a differentiator in the customer experience from one bank to the other within a few years.